When you are shopping for a Colorado Rockies stitched jersey it is easy to get a bit confused on which style of MLB jerseys are actually embroidered and not screen-printed, this article can give you some guidance. There are two main types of MLB jerseys. Quickly, here's what you need to know:
In this article let's take a closer look at the stitched Rockies jerseys so you can have a better idea what to expect. We will also link out to our other MLB jersey resources in case you want to read more about these jerseys.
---
Authentic Colorado Rockies Stitched Jerseys
Which Rockies Jersey is Stitched?
As we discussed above, the Nike Authentic MLB jerseys are the MLB jerseys that have authentic embroidery. Most teams offer their authentic jersey to fans in the home, road, and alternate colors so you can choose which one you prefer.
For example, here's what the home version of the Colorado Rockies Authentic Jersey looks like:
This is the current price of this authentic Rockies jerseys available at MLBShop.com (paid affiliate link takes you to MLBShop.com). Because these are the stitched Rockies jerseys, they will be more expensive.
These Nike Authentic jerseys are quite popular and coveted by many baseball fans. As we discussed earlier, this is the closest you can get as a fan to wearing what the Rockies players wear on the field.
These Rockies Authentic Jerseys do have the mesh paneling on the back side of the jersey below the belt. I believe this is actually referred to as an "Air Belt". Here's a close look at the "Air Belt" mesh paneling on the bottom of a Nike Authentic MLB Jersey: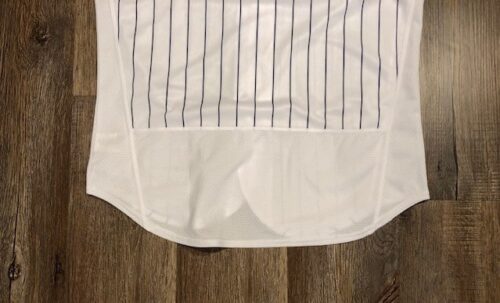 This "Air Belt" was incorporated in 2016 when MLB made changes to the jerseys based on, in part, input from the players. This mesh paneling increases air flow and reduces body heat for the players. And because the Authentic jerseys are made to mimic what the players wear on the field, your authentic Rockies jersey will also have this mesh paneling.
Are Replica Rockies Jerseys Authentic?
The Nike Replica jerseys are the more affordable option, and no they are not authentic. The replica jerseys will look very similar to the authentic jerseys, but have fewer premium design features, which keeps production costs down, and allows them to be sold at a more affordable price point.
This is the current price of the Rockies replica jerseys available at MLBShop.com (paid affiliate link takes you to MLBShop.com). No, these replica jerseys do not have the authentic embroidery, so if you are shopping for a stitched Rockies jersey, you will need to stick with the Nike Authentic Jerseys we discussed earlier.
The graphics on these replica jerseys are heat-sealed. Overall, the replicas still look very nice. And even though they aren't authentic jerseys, this is still a cool way to rep your favorite player or team, especially if you are operating on a tight budget.
Authentic Rockies Jersey Sizing Information
Nike became the official outfitter of MLB in 2020. The previous outfitter was Majestic. Having owned both Majestic and Nike authentic jerseys, I can tell you that overall, the sizing is very similar.
In my experience, MLB jerseys do fit a little bit big, but I usually order my normal sizing. If you want to read more in-depth regarding sizing, visit our articles linked below:
Other Colorado Rockies Information
If you are interested in attending a Colorado Rockies game, understanding where to park and how to enter the stadium can be a bit confusing. So can the policies and procedures surrounding MLB games. Below are some helpful resources to get you started:
Rockies Stitched Jersey Color Information
As we discussed earlier, the most all MLB teams will offer the Nike Authentic Jerseys to fans in the home, road, and alternate colors, but it is important to understand that availability can be an issue, especially during baseball season when sales increase.
The Colorado Rockies have pin-striped uniforms. Their white home uniform has black stripes and a Rockies logo across the chest. It has a tiny number on the lower left lapel and an additional logo on the left sleeve. The back of the jersey has the player's number on the shoulder in black with matching numbers below.
The home gray uniform is fairly simple. It has Colorado in large font stretching across the chest with the number underneath on the left. The back of the jersey has the player's name in navy outlined in white with a matching number below.
The last thing to always remember, if you want an authentic Rockies jersey, it will need to be a stitched Rockies Jersey. If it is not stitched, it is not an authentic Rockies Jersey.